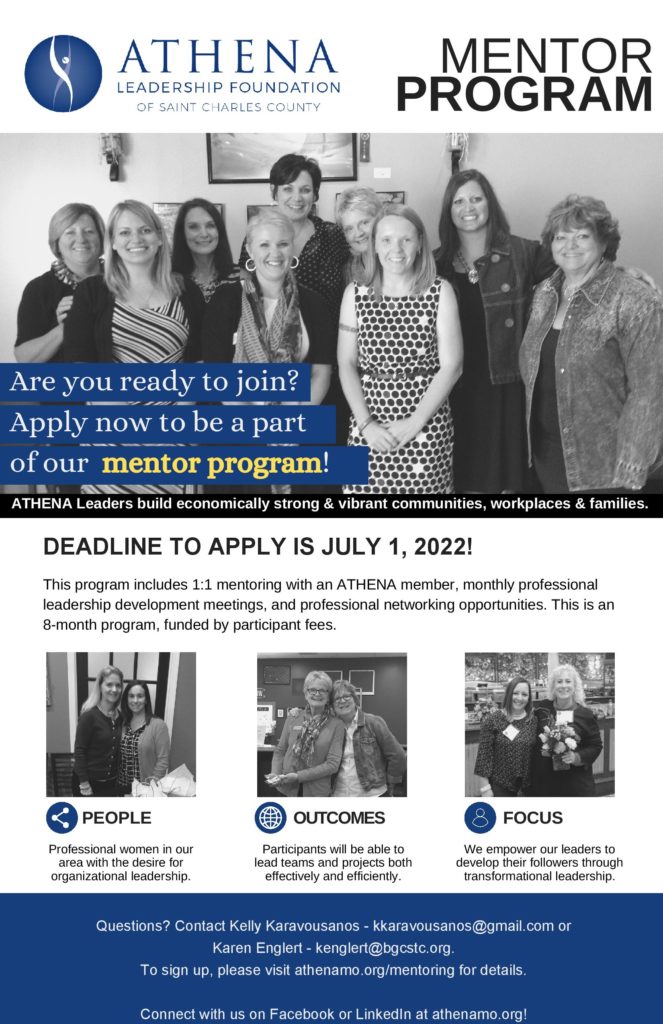 In 2014, made possible by the backing of local sponsors, the ATHENA Mentoring Program was launched. The program is currently offered by application to up to 6 professional women who live and/or work in St. Charles County. Women who have the potential and desire to not only develop their leadership skills but to connect with like-minded women executives to ultimately advance St. Charles County's effectiveness through business and industry.  By optimizing professional women, ATHENA leaders prove to be instrumental in building economically healthy, robust, and vibrant communities and families.
The focus of the program is transformational leadership. Transformational leaders are positive, inspiring, empower and focus on developing their followers. They are leaders who are valued and enjoy a higher-performing team.  
The structure of the program includes monthly one-on-one coaching with a mentor from the ATHENA membership and leadership development group mentor/mentee meetings. The group meetings are facilitated by an executive coach and leadership development materials are provided to all participants.
Apply Now to be part of our Mentoring Program!
Class of 2023 / September 2022 – May 2023
Who
Professional women in our county who have the potential and desire for organizational leadership will be given an opportunity to connect with and learn from women executives.
Outcomes
Participants will be able to lead teams and projects within the workplace and the community more effectively.
Focus: Transformational Leadership
These positive and inspiring leaders empower and develop their followers, which results in sustainable value and higher performing teams
Program Overview
Monthly one-on-one coaching with a mentor from within the ATHENA membership
Plus monthly leadership development group mentor/mentee meetings. Independent study
One ticket to the annual ATHENA Award Luncheon & Leadership Summit
Invitation to participate in additional ATHENA programs throughout the year
Participation & Scope
Professional women who have the potential for leadership and desire to advance St. Charles County's effectiveness through business and industry are encouraged
to apply.
Ideal candidates will have:
A minimum of 5 years experience in their field
A professional position within a company located in the greater St. Charles County region
Willingness to commit time to actively participate and attend group meetings.
A one-time fee of $150.00*, due upon acceptance into the program to help defer the cost of materials
*Fee includes all books and a ticket to the Summit and Luncheon
APPLY NOW – Applications due July 1, 2022
To apply to be a mentee in the program, please submit your resume and cover letter outlining
Why you are interested in participating in the program

What you hope to learn from the program

What area of personal growth 

you would like to focus on and why?