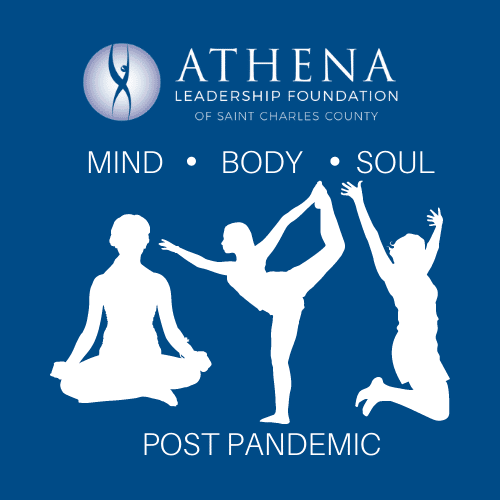 Mind, Body, and Soul Post-Pandemic – CANCELLED
September 16 @ 8:00 am - 11:00 am
Due to illness and other challenges beyond our control, we have decided to cancel the event on Friday.  We plan to offer this event at a later date.  Please watch your email for additional information. 
We apologize for any inconvenience. 
ATHENA Leadership Foundation of St. Charles County invites you to a community-centered summit focused on Mind, Body, and Soul in our post-pandemic world.
Spend time taking care of YOU!
Event includes:
A1C Screenings
Blood pressure screenings
Mammogram van (provided by Missouri Baptist)
Meditation sessions
Yoga sessions
Speaker panel
Opening panel speakers include:
The event is open to the public. Registration is requested, but not required.
We ask attendees to consider a $10 donation* to ATHENA Leadership and to bring food donations** to support Sts. Joachim and Ann Care Service.
* Donations are requested but not required. They can be made online using the form below or can be brought to the event.
** The food pantry is requesting the following list of items:
64 oz. juices (apple, cranberry, etc.)
Crackers (saltines, Ritz, Club, etc.)
Canned or packaged meals (Armour Beef Stew, Hormel Complete Meals, chicken, and dumplings, etc.) and Hamburger/Tuna/Chicken Helper
Potato/Rice/Pasta Sides
Household cleaners (all-purpose cleaner sprays, glass cleaner, Lysol liquid cleaner, etc.)
Small coffee cans, black tea, hot chocolate, and powdered creamer
Breakfast bars (Nutrigrain, Belvita, or cereal bars in 8 or 12 ct. boxes)
Condiments (ketchup, mustard, mayonnaise, BBQ sauce, and salad dressing)
Cookies
Jellies and honey
Boxed oatmeal, pancake mix, cereal, muffin mix, and hello or pudding boxes
Small bottles of vegetable oil
46oz containers of laundry detergent or 20-35 ct. pods